The 2018 SUV That Will Help You Save On Gas
The one, the only: Outlander PHEV. Mitsubishi is releasing their brand-new Plug-in Hybrid Electric Vehicle. You read that right.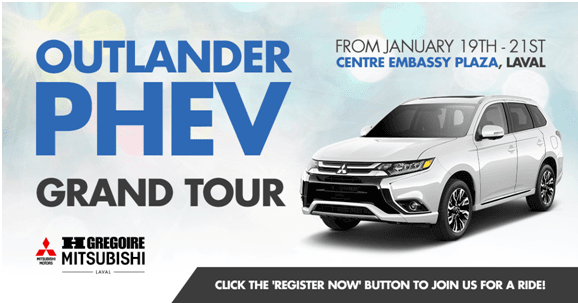 The Outlander PHEV is a ground-breaking vehicle that encompasses the stability of an AWD, the quietness of an electric car and the security and practicality of an SUV. The Outlander PHEV shifts effortlessly amongst three drive modes to get the most efficient performance from its electric motors and petrol engine. The Outlander PHEV also has the most innovative technology, safety features, and sophisticated interior design, making it the most perfect SUV.
The good news is, the HGregoire Mitsubishi team is excited to invite you to get behind the wheel of the world's best selling plug-in hybrid SUV – the all-new 2018 Outlander PHEV.
Now available in Canada! Be one of the first to test drive this vehicle during this unique event led by product experts and a professional drive team.
Event site: Centre Embassy Plaza
Address : 1003 Cure-Labelle Blvd, Laval
Date : January 19th-21st
Join us to charge-up the way you drive in a big way!
Click the 'Register Now' button to view a list of available sessions, and secure your seat at an event! Space is limited to 20 people per session.